The federal Affordable Care Act, enacted in 2009, contained a provision that surprised many people. A concerted effort by a wide variety of organizations resulted in a provision to begin addressing a gaping hole in our social safety net that most people do not know exists.
Most people believe that existing health insurance, and certainly Medicare, covers the cost of services and supports needed by people who can no longer perform activities of daily living, such as dressing, eating, toileting, or getting around. It doesn't. The only option for people who have not saved enough to purchase these services, or purchased long-term care insurance when healthy enough to qualify, is to spend themselves into poverty and enter a nursing facility that accepts the meager reimbursement offered by Medi-Cal.
Looking at the demographic time bomb on the horizon, the decline in pensions and retirement savings, and fiscal pressures on the Medicaid program, this is clearly a crisis in the making. The Affordable Care Act attempted to create a federal insurance program that would start to address this issue.
The SCAN Foundation, which focuses its efforts in this area, funded the coalition of organizations that succeeded in getting this provision in the Affordable Care Act. While disappointed it was ultimately deemed unworkable, SCAN was impressed that this broad coalition of organizations could have this kind of success in Congress. It set out to create the same type of organization in its home state of California, focused on potential state solutions.
The result is the California Collaborative for Long Term Services and Supports, which has been functioning for five years. It consists of 30 statewide organizations whose members have an interest in the provision of long term services and supports.  This refers to the wide range of personal, medical, social, and financial assistance needed by persons with functional limitations over an extended time.
The organizations participating in the Collaborative are diverse, representing not only representatives of older adults and people with disabilities of all ages, but also providers of all types of long term services and supports, including those who provide services at home and those who provide services in institutional settings. It also includes medical providers, as well as unions who represent workers in this area. It also includes health insurers, who are taking an increasing role in administering long term services and supports through managed care plans in California.
Each organization has endorsed the following principles for a System of Long-Term Services and Supports:
Dignity: The services are grounded in respect for the person who uses them and driven by the preferences of that person.
Choice: Access to all types of services is provided on an equal footing.
Flexibility: The services are comprehensive and flexible enough to meet changing needs and incorporate new modes of service and supports.
Quality: Public funding and oversight that values and rewards high-quality care.
Legality: The services are consistent with the legal rights of individuals who use them.
Cultural Competence: The services are appropriate and responsive to the needs of unserved and underserved populations.
Accessibility: The services and information about them are easy to locate and use and are physically and programmatically accessible.
Affordability: The services are cost-effective for the person and the system.
Inclusive: The system recognizes and supports the crucial role of high-quality paid and unpaid caregivers, including family caregivers, and emphasizes the importance of workforce development and training.
Independence: The services support maximum independence, full social integration and quality of life.
Over the five years of its existence, the Collaborative has become a place for its members to share information and perspectives on state issues relating to long term services and supports, and a place where policymakers from the California Legislature, state agencies, and even federal agencies come to hear the perspectives of interested stakeholders. For example, it has spent considerable time on the Coordinated Care Initiative, a federal-state project to transform the provision of services to persons eligible for both Medicare and Medi-Cal, California's Medicaid program.
With talk heating up in Washington, DC of block granting Medicaid, presumably limiting the federal government's contribution to this core program while providing the state more flexibility in how funds are used, the role of the Collaborative will likely become even more important to its members.
Sharing information and providing a forum for government to hear from stakeholders will be increasingly important in a time of rapid change, which is where we appear to be headed.
---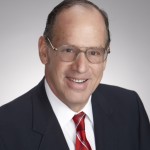 Casey L. Young currently helps provide staff support to the California Collaborative for Long Term Services and Supports. Previously he worked for AARP, where he helped The SCAN Foundation launch the California Collaborative. Prior to his work with AARP, Casey worked for state government for over three decades, including 20 years for the California Legislature.
Save